Useful Resources
For Learning English
Here we will include a list of resources that will be useful for people that want to learn or improve their English.
Our Free English Learning Sites
Remember that we have the following to help your students improve their English outside of the classroom:
Woodward English Grammar - www.grammar.cl
Similar to this vocabulary website though focused on English Grammar. We have many grammar notes and games for students.
Learn English blog - www.woodwardenglish.com
Our blog to help students learn English with a new article we publish every couple of weeks. Sometimes we include idioms, common mistakes, famous quotes and even jokes in English, all with an explanation of the vocabulary and/or grammar that appears.
Woodward English on YouTube - www.youtube.com/user/WoodwardEnglish
Every week we upload a new video to help students learn English. Sometimes they are grammar lessons, other times essential English vocabulary and ocassionally tips for learning English.
Woodward English on Facebook - www.facebook.com/WoodwardEnglish
You can also recommend students follow us on Facebook where we frequently publish new material and images that we create.
Woodward English on Twitter - @WoodwardEnglish
On twitter we have our English Word of the Day which includes another tweet with an example of its use. We read all of the messages people send us and often answer questions and doubts from those English students. Sometimes teachers contact us too with suggestions for classes or topics. This is also the place where we let both teachers and students know when we have created new material.
Woodward English on Pinterest - www.pinterest.com/WoodwardEnglish
Whenever we create a new image or chart, we add it to our Pinterest boards.
Woodward English on Instagram - instagram.com/WoodwardEnglish
Whenever we create a new image or chart, we add it to Instagram. Also Rob W sometimes says hello and other various things via Instagram Stories (which disappear after 24 hours).
ESL Resources for Teachers and Parents
We have a variety of language ESL/ELL lessons and activities that teachers can use in their classrooms or parents can use as a part of homeschooling. We have flashcards, worksheets, wall charts, task cards and much more.
You can find these ESL Resources here: Woodward Education on TpT. Some examples are: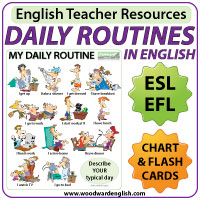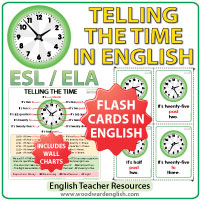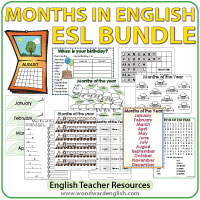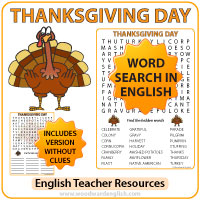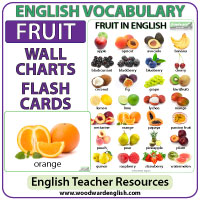 If you found this list of ESL Resources useful, let others know about it: